Pomysł wydaje się trochę szalony: zamawiasz lub wykonujesz przepiękny urodzinowy tort, a potem wynajmujesz fotografa by uwiecznił jak twój maluch zjada, miażdży i rozmazuje tort tak, że zostaje z niego bezkształtna masa.
Mimo pozornego szaleństwa, wiele osób decyduje się na wykonanie sesji "Cake Smash". Sesja taka to niezapomniana pamiątka, dostarczająca dużo radości nie tylko małym "niszczycielom" lecz również ich rodzicom, a wykonane zdjęcia stanowią oryginalną i niezapomnianą pamiątkę dla całej rodziny.
Cake Smash dotarły do Polski z USA, gdzie ich popularność rośnie od kilku lat. Nie wiadomo kto i w jakich warunkach zrealizował pierwszą sesję Cake Smash (w dosłownym tłumaczeniu: rozwalanie/miażdżenie ciasta), na pewno jednak nie obyło się bez dużego słodkiego bałaganu i "tortowych ofiar".
Tradycyjnie sesje Cake Smash wykonuje się w okolicach pierwszych urodzin, wykorzystując do tego celu specjalnie przygotowany tort, jednak jeżeli roczek już minął nie ma problemu – uczestniczyć w nich mogą również starsze dzieci. Dla małego jubilata sesja taka to często pierwsze spotkanie z tak dużą ilością słodkości, więc obserwacja jego reakcji to duża frajda zarówno dla rodziców jak i dla fotografa. Sesje Cake Smash mogą być wykonane przed urodzinami (wykonane zdjęcia można wykorzystać do wykonania niezwykłych zaproszeń urodzinowych), lub później, po urodzinach.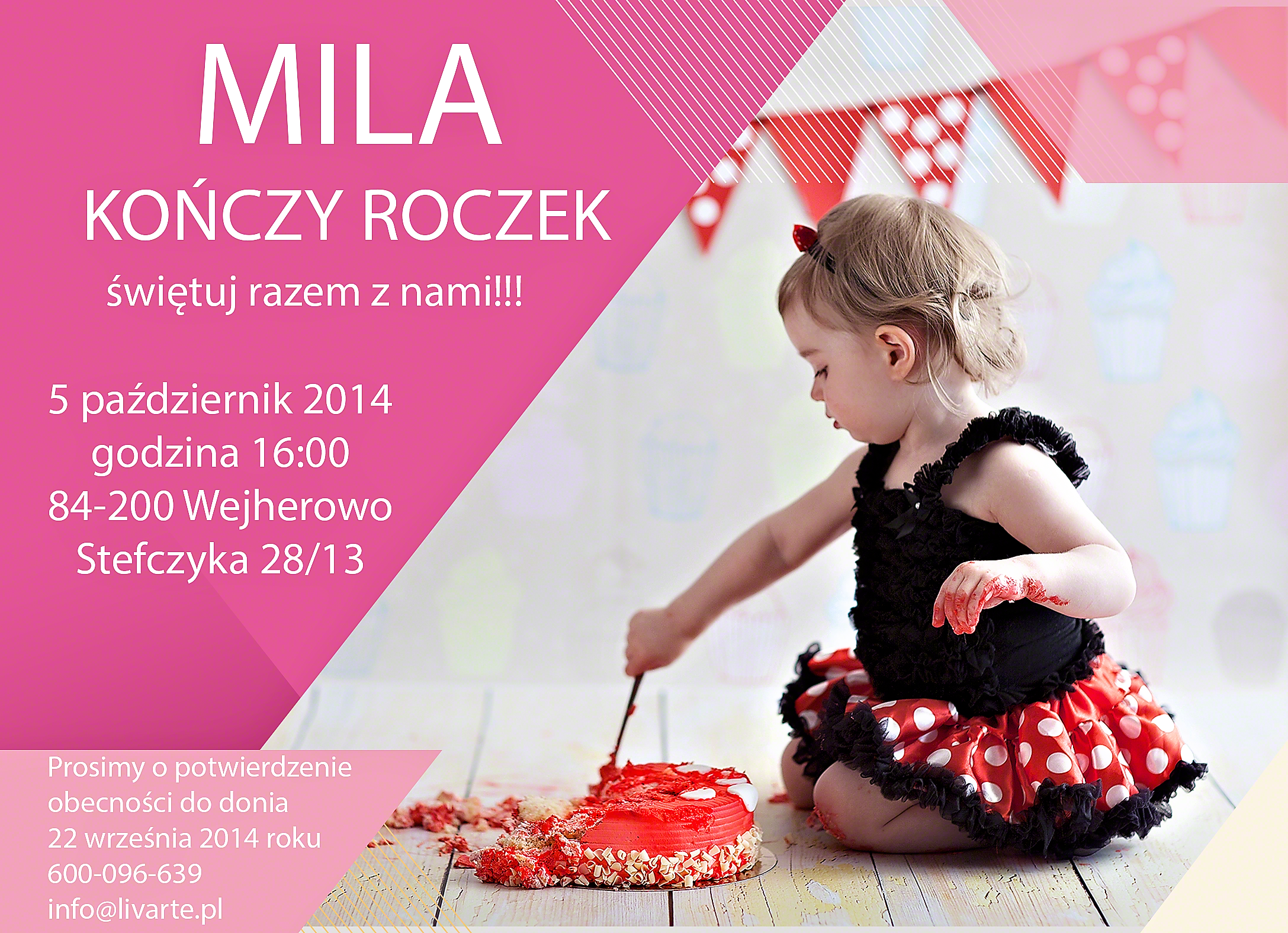 Sesja taka to również wspaniały pomysł na prezent urodzinowy. Jubilatowi czy też Jubilatce ofiarujemy nie tylko świetną zabawę, ale przede wszystkim wspaniałą pamiątkę, która na pewno zostanie doceniona po latach. Specjalnie na taką okazję przygotowaliśmy Voucher podarunkowy.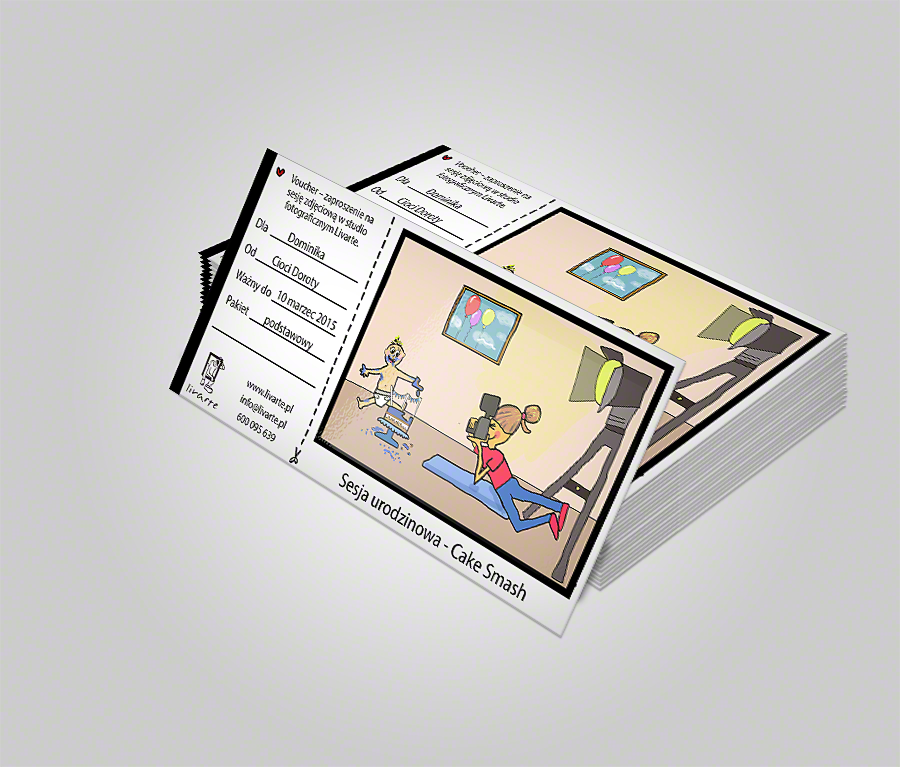 Nasze studio fotograficzne Livarte oferuje sesje Cake Smash, personalizowane dla każdego malucha (tła, dekoracje, stroje). Sesja taka obejmuje dwie stylizacje. Pierwsza stylizacja – urodzinowa, podczas której uwiecznimy wasze dziecko w urodzinowym ubraniu/kostiumie, z balonami, urodzinowymi banerami i gadżetami.
Druga stylizacja
to punkt kulminacyjny sesji – przebieramy malucha w odpowiedni kostium, stawiamy przed nim tort i zaczyna się zabawa. Reakcje dzieciaków są najróżniejsze – od zachwyt i radość po zdziwienie i podejrzliwość – bo "
nagle każą mi robić to, co w domu jest zabronione
". Dzieci przeważnie zaczynaj powolutku, po kawałeczku by po chwili czerpać całymi garściami. Gdy jest po wszystkim, do akcji wkraczają dwie ekipy sprzątające. Pierwsza – nasza – doprowadza plan zdjęciowy do porządku, druga – złożona z rodziców – zajmuje się doprowadzeniem do porządku małego modela/modelki.
Sesja Cake Smash realizowane przez nasze studio fotograficzne Livarte kosztuje standardowo 200 zł. Kwota ta obejmuje konsultacje przed sesja, wykonanie sesji zdjęciowej, obróbkę graficzną 18 zdjęć. Istnieje możliwość dokupienia większej ilości fotografii. Doradzamy również przy wyborze tortu, którego zakup pozostawiamy rodzicom. Sesje realizujemy w naszym studio w Wejherowie, a dla odważnych, którzy nie boją się tortowego bałaganu, również w ich domach (za dodatkową opłata).